Eastgate Manpower Consultants Inc.
Eastgate Manpower Consultants Inc.

(Recruitment Agency)

Representative:
Andrew B. Cagang
POEA License:
POEA-103-LB-040516-R
License Validity:
04/20/2020

1

Follower
+ Follow
About Agency
The Eastgate Manpower Consultants, Inc. is a recruitment agency that has been existing for more than 5 years that provide excellent services to both employers and applicants. The agency started as a recruitment and deployment agency for Domestic Helpers in Hong Kong. In terms of the Hong Kong market, the EMCI is known to be one of the most effective and fastest agencies that can seek and provide employers to DH applicants.

With the emergence and growth of the demand for human resources in China, EMCI is one of the first agencies that was able to look for the appropriate and legal way to deploy Filipino Workers there. The agency assures that all Filipino applicants who will be deployed in China will be safe and contented with their work. Hence, all of them will be working in China as legal workers since work visas will be processed and provided to all applicants. Furthermore, EMCI together with its partners in China, hired several Filipino as their own office personnel to monitor and oversee the status of all deployed Filipino workers.
Today, EMCI has pledged to provide consistent and excellent services to their clients which focus on the recruitment and deployment for two specific markets which are Hong Kong (for Domestic Helpers) and China (for Hotel Staff, English Teachers).
Gallery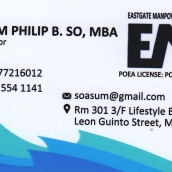 Industry
Address:
R301 3F Leon Guinto St. Malate, Manila
Contact Details:
Recent Posted Job
There are no recent posted job.
Popular Jobs Posted
There are no popular job posted.